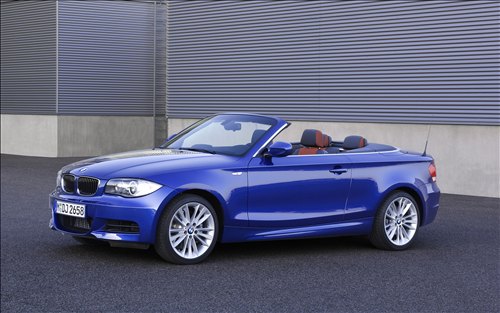 Price
: Reasonable to OMG, REALLY??? (Thanks goes out to BMW for making floor mats a 200 dollar extra)
Power
: Enough, to way more than enough, to "honey I think I just s*** my pants"
Sex appeal
: It's a chick car. Always will be a chick car. Dudes can just go cry about it in their bigger and more expensive 3-series.
I like this car but I must admit it took me a while to come to that realization. When it first came out in the United States a few years ago, I had to weep a little because at first glance it looked like another EPIC failure brought to us by BMW's former(THANK GOD) chief designer, Chris Bangle. Thankfully, however, the character lines along the top and bottom of the side paneling and door were smoothed out after about a year and it now proudly doesn't quite look as much like a bathtub as it used to. The front end still bothers me a BIT since I like it when the bumper doesn't look like its glued on and is about to fall off(if you look closely at the picture, there is a weird line going off the top of the headlight straight toward the front left wheel). This is of minor concern to me as BMW does this with pretty much all their cars now and, as a whole, the rest of the car looks splendid.
This pint-sized BMW comes as both a hardtop and a convertible. It is one of the few that I would say GET THE SOFT TOP. There are many reasons why you should never get a convertible but this car: A)looks better as a convertible(a rare feat), B) the hardtop is still pretty ugly, so if you want to look like you have any taste at all besides your Louis Vuitton monetary holder, stay away, and C) you get to listen to the muscular, testosterone infused sound of the 135i turbocharged inline six motor. For those of you who are not fanatics, it basically means the sun will be in your face, the wind in your hair, women will look right at home, and if you even look at the accelerator, you will blast off faster than anything less than a Porsche.
That brings me to my last point, this is a chick car. I'm a dude, I've driven one, and all that did was confirm the fact I can't have one. It sounds incredibly manly but if you look around while in one, you see a dozen 128i convertibles around you(the not-as-well-endowed counterpart), all of which are being driven by women. No matter how fast you go, that dude in the Ford Mustang GT will totally judge you, and you will shrink behind the steering wheel as far as you can(about 1/8 of an inch) in an attempt to squeak: "This car is manly!" Ya right.
There is hope though. BMW released the 1-series M a while back and if you are rolling in the dough, that is a very manly car.